Alexandra Zapruder Book Signing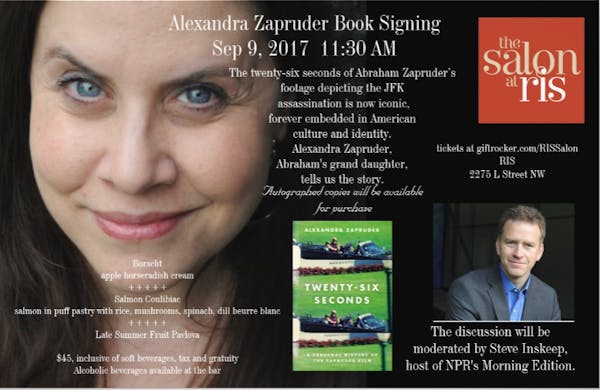 "On November 22, 1963, Abraham Zapruder left his office hoping for a glimpse of President John F. Kennedy's motorcade as it passed by Dealey Plaza. A Russian Jewish immigrant who wholeheartedly loved his home in America, Abe thrilled at the chance to see the young president in person—and perhaps to bring back a home movie of this once-in-a-lifetime moment for his family.

The twenty-six seconds of Abraham Zapruder's footage depicting the JFK assassination is now iconic, forever embedded in American culture and identity. The first major instance of citizen journalism, this amateur film forced Abraham Zapruder to face unprecedented dilemmas..."

Join us for lunch and a book signing by Alexandra Zapruder, the author of Twenty-Six Seconds: A Personal History of the Zapruder Film and granddaughter of Abraham Zapruder.

The discussion will be moderated by Steve Inskeep, host of NPR's Morning Edition.

Doors Open at 11:00 am
Lunch Begins at 12:00 NOON
Program Begins at 12:15 pm

Menu

Borscht
apple horseradish cream
+++++
Salmon Coulibiac
salmon in puff pastry with rice, mushrooms, spinach, dill beurre blanc
+++++
Late Summer Fruit Pavlova

$45, all inclusive of soft beverages, tax and gratuity
Alcoholic beverages available at the bar

Autographed copies of Twenty-Six Seconds: A Personal History of the Zapruder Film and Salvaged Pages, Young Writers' Diaries of the Holocaust will be available for purchase at the event.