RIS Art: Rolling Thunder By Donna Parry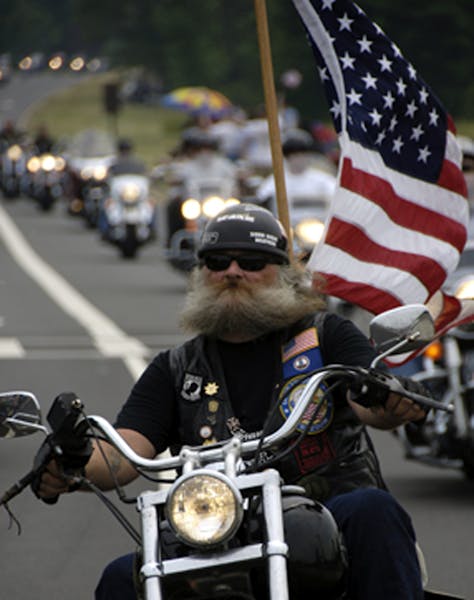 Celebrating the last big Rolling Thunder
Held since 1988, Rolling Thunder's annual "Ride for Freedom" event has seen hundreds of thousands of motorcycle riders come together in Washington, D.C., over the years in support of United States military veterans, as well as to call attention to soldiers who are missing or have been held as prisoners or war.
Rolling Thunder first began as a demonstration by Vietnam veteran Ray Manzo (CPL, USMC), in an effort to raise awareness regarding the thousands of POW and MIA still unaccounted for, more than a decade after the Vietnam War ended.
Choosing Memorial Day weekend for the event, they envisioned the arrival of the motorcycles coming across the Memorial Bridge, and thought it would sound like 'Rolling Thunder.' The first Run in 1988 had roughly 2500 motorcycles and riders demanding that the U.S. government account for all POW/MIA's. It continues to grow every year, becoming the world's largest single-day motorcycle event. Now with over a million riders and spectators combined, Rolling Thunder has evolved into an emotional display of patriotism and respect for all who defend our country.
According to Rolling Thunder, there are still 86,590 soldiers unaccounted for.
But costs have gone up and the Rolling Thunder organization thinks that many smaller events through the country will still spread the word. So Rolling Thunder XXXII will be the last big one.