Main content starts here, tab to start navigating
About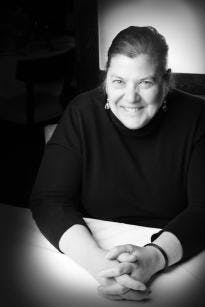 Ris Lacoste is the Chef/Owner of RIS in Washington, DC. She is one of the most respected and dedicated chefs working in Washington D.C. today. She has earned her reputation built upon high-quality ingredients, bold innovative technique, and food that is both familiar and simply delicious.
Born in New Bedford, Massachusetts, Ris' love of cooking began at the tender age of 5 when she started making cakes. At age 12, her first job was as a cashier and shelf-stocker for Johnny Gorka at his Polish market near her childhood home. At 16, she was hired as a waitress at Friendly's Ice Cream shop, where she began to develop her way with food.
She studied at Anne Willan's La Varenne Ecole de Cuisine in Paris. On her return to her native New England, she joined Chef Bob Kinkead at the Harvest Restaurant in Cambridge, MA - Harvard Square. After that, she assisted Kinkead with opening 21 Federal in Nantucket and later in downtown Washington, D.C. Together they opened Kinkead's - An American Brasserie.
In 1995, Lacoste left Kinkead's to become Executive Chef for Clyde's Restaurant Group's 1789 in Georgetown. While there, she earned the title of "Chef of the Year" and 1789 received the honor of "Restaurant of the Year." Her innovative, regional American cuisine earned her awards from The Washington Post and Wine Spectator magazine, and she was a finalist for a James Beard Award in 1999.
Lacoste left 1789 at the end of 2005 to open RIS, her first solo venture, in December 2009. Since then, RIS has been a neighborhood gathering spot for the West End neighborhood, as well as hosting large scale events and supporting the community in efforts such as helping feed frontline workers. You will often find her at the farmers market, happily chatting with farmer friends and finding inspiration for her next dish.

Our relationships and commitment to the Washington, DC area and beyond reflects our culture of generosity and service. When you support RIS DC you help foster our collaboration with some of the city's most notable charitable efforts and help to make the Nation's Capitol stronger.

DC Central Kitchen
Using food as a tool to strengthen bodies, empower minds, and build communities.

World Central Kitchen
Providing meals in the wake of natural disasters.

RE: Her
We are proud to be a part of this group of women owned food businesses in the DMV.

Suited For Change
Equipping women in need in our community on their path to financial independence by providing them with professional attire, coaching, and skills training.

Foggy Bottom West End Village
Lend a hand, stay connected, live well at home.
Dupont Circle Village
Providing a robust array of volunteer services to members who need a hand to meet some of the challenges that living longer can bring.
Toigo Orchards
Growing high quality fruit including apples, melons, and their famous peaches.
Fresh Farm Markets
A nonprofit that promotes sustainable agriculture and improves food access, education, and equity in the Mid-Atlantic region.

Linda Vista Farm
A family-owned farm in Montross, VA.

JOIN OUR COMMUNITY
@RISDC / Facebook